W
e start every
Hideaway Cabin
with a clean sheet of paper and only one goal, an extraordinarily pleased homeowner.
Our business philosophy is branded in everything we do, personal service, attention to detail and unsurpassed quality.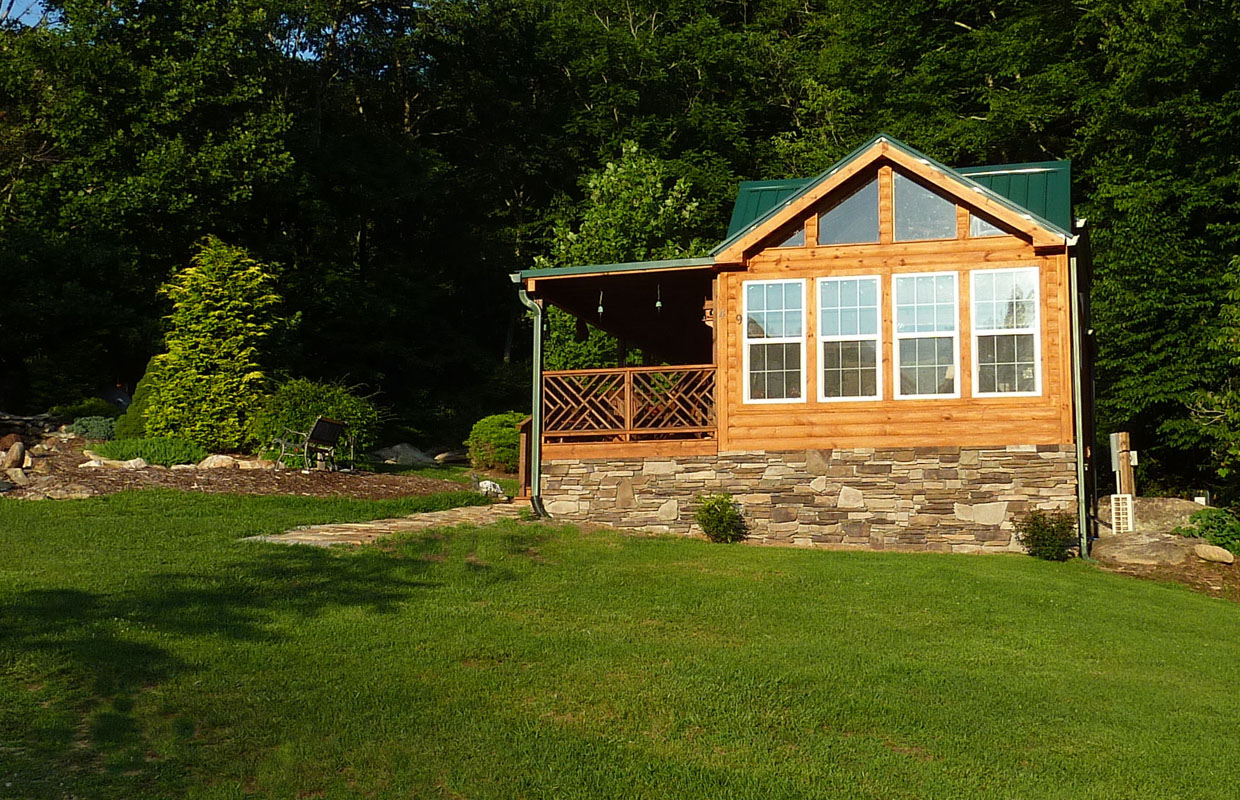 W
e have numerous floor plans that make a lot of sense, but you aren't confined.   Change a little or change a lot.   Sometimes a spectacular view demands adding an extra window.  Sometimes changing the entrance or just flipping the floor plan can be the right touch.  If you prefer, we can start with a clean piece of paper and an imagination and we will personally walk you through every detail.
Your lot or our park, you'll get the same personal service and quality. You can choose a lot in Hideaway Park or we will deliver your move-in ready park model home to your location. We offer everything from a bare bones hunting cabins, comfortable rental units for income, tiny homes or lavishly appointed residences for full time living.  Be certain, at the core of every Hideaway Cabin is our unparalleled thoughtfulness and quality.   Models available in 12' or 14' wide with front & rear porches.
Browse our photos of what some owners have done, start with some of our floor plans, then dream.  Hideaway Cabins start in the fifties and will commensurate with your taste & desires. All models shown by appointment only.
Our Cabins  – Starting in the $120's
Our latest and most requested floor plan, the Reedy Creek Cabin.
This cabin has received rave reviews from the experts, our clients. It is the compilation of the last 12 years of saying "I should have…". Basically, everything I've ever thought a cabin should have is in this layout. Available in 12' or 14' wide models, with or without covered porches.
Rather than a mundane laundry list of features or options, just look at what some of our residents have done with theirs.
Our previous Bear Cabin was a huge hit and not to sound trite, but this 'new' Bear is really something. Same basic layout but more light, optional added dormers, separate laundry room and whatever else your heart desires. Available in 12' wide only.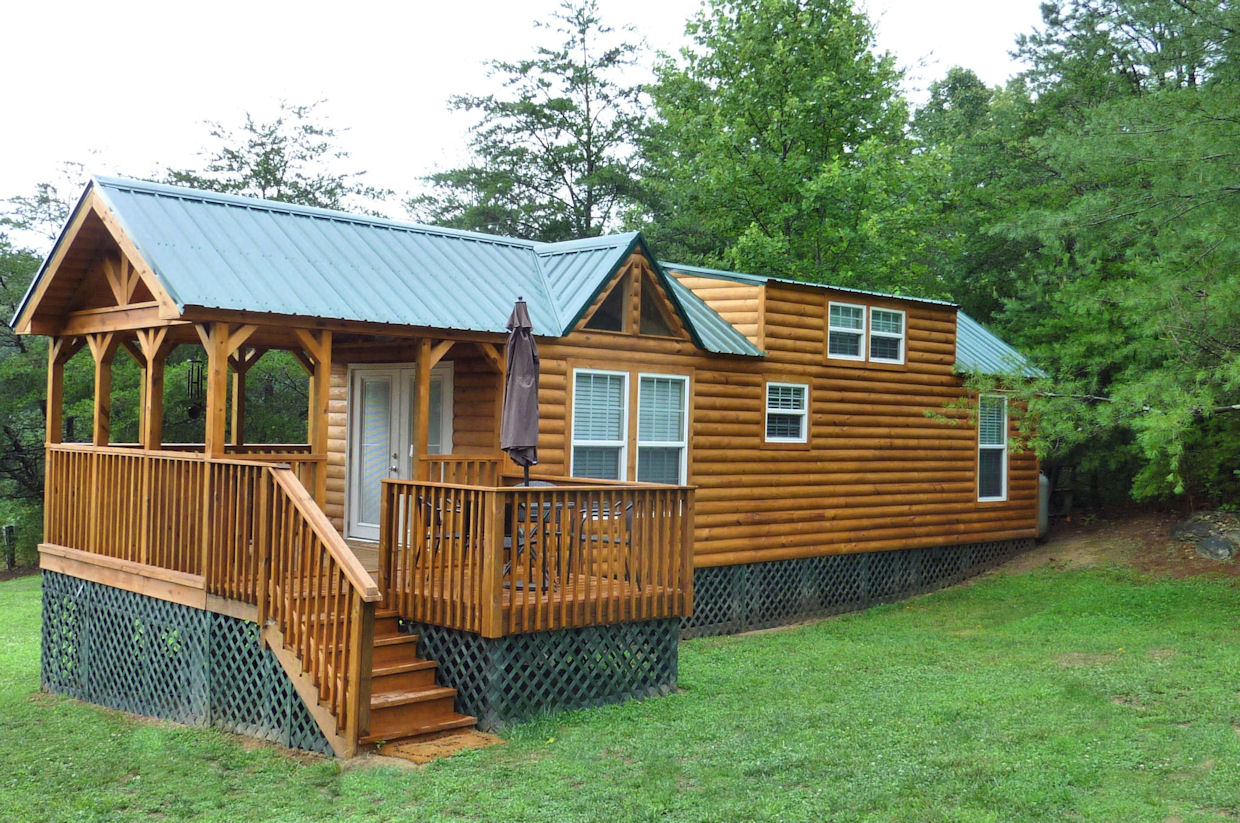 The Cub is just as rustic as the Bear Cabin with a bit less hand crafted accents. You'll enjoy the very same quality and every practical feature of the Bear Cabin including: thermopane windows and doors, 25 year metal roof, upgraded insulation in the walls, floors, and ceiling and so much more as standard features. Your choice of multiple floor plans, flooring and counter tops truly make this cabin your home away from home.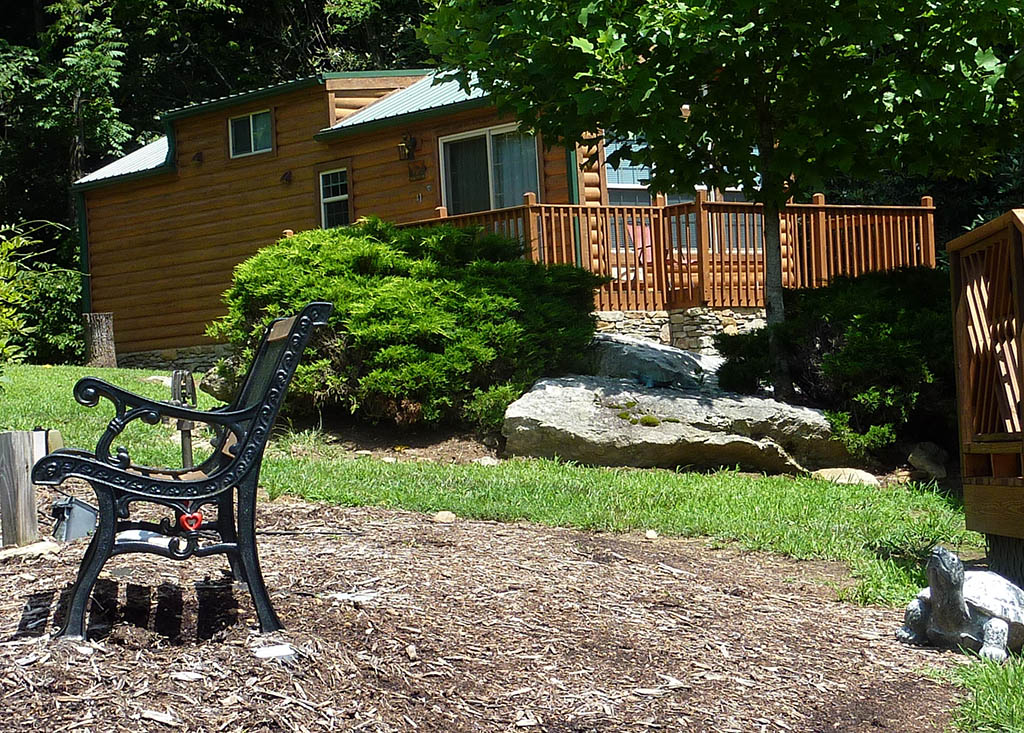 The Coyote Cabin's rustic interior and warm atmosphere will have you easily creating an excuse not to leave. Private bedroom, full kitchen, comfortable living room and covered porch make the Coyote a great retreat.
If you can't stay awake on the porch, just don't worry about it. Life will throw you enough curves, you need your rest. Fully furnished.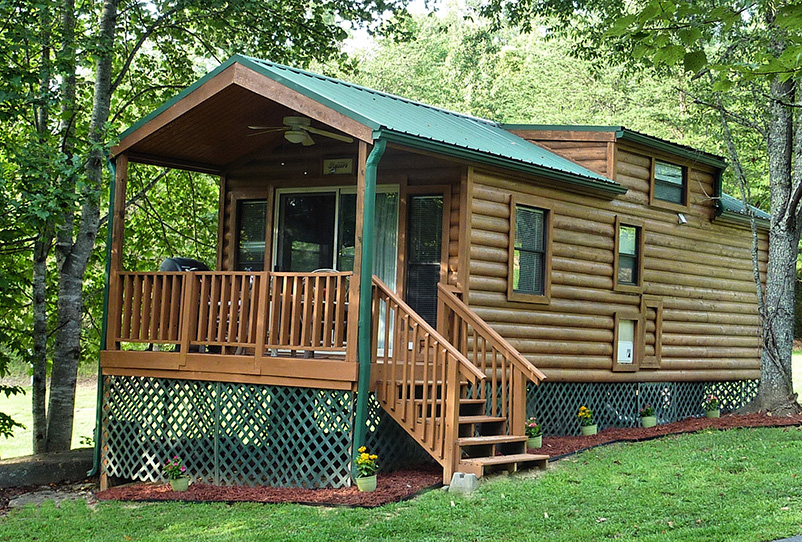 Shady Pine and Chimney Rock Cabins
T
hrough the years, I've learned the difference between "good" and "excellent" is all in the details.  My goal, is to provide and suggest to every perspective homeowner, the details that really make a difference and to make this a surprisingly pleasant experience.  So, I've bent the rules, mixed model features and added options where they didn't exist.  I've taken the "who's stopping us" approach. Our personal touch and that creative liberty is what makes every Hideaway Cabin exclusively unique.
So, while we name a few of our cabins, don't let that hinder your imagination. Any floor plan, any exterior and any option can pretty much be in your cabin.  And we can name it whatever you want.
Browse through our photos and see what our owners have done. Then select a floor plan and we're almost there.
Here are a few of our floor plans to get you started.  Keep in mind every cabin is custom built, so you aren't confined to our plans.  However, your location and placement of your Hideaway Cabin will most likely dictate where your entrance is, what you want to see when you're in the kitchen and where you want to add your covered porch or deck.  From there we can flip, reverse and change to accommodate your desires.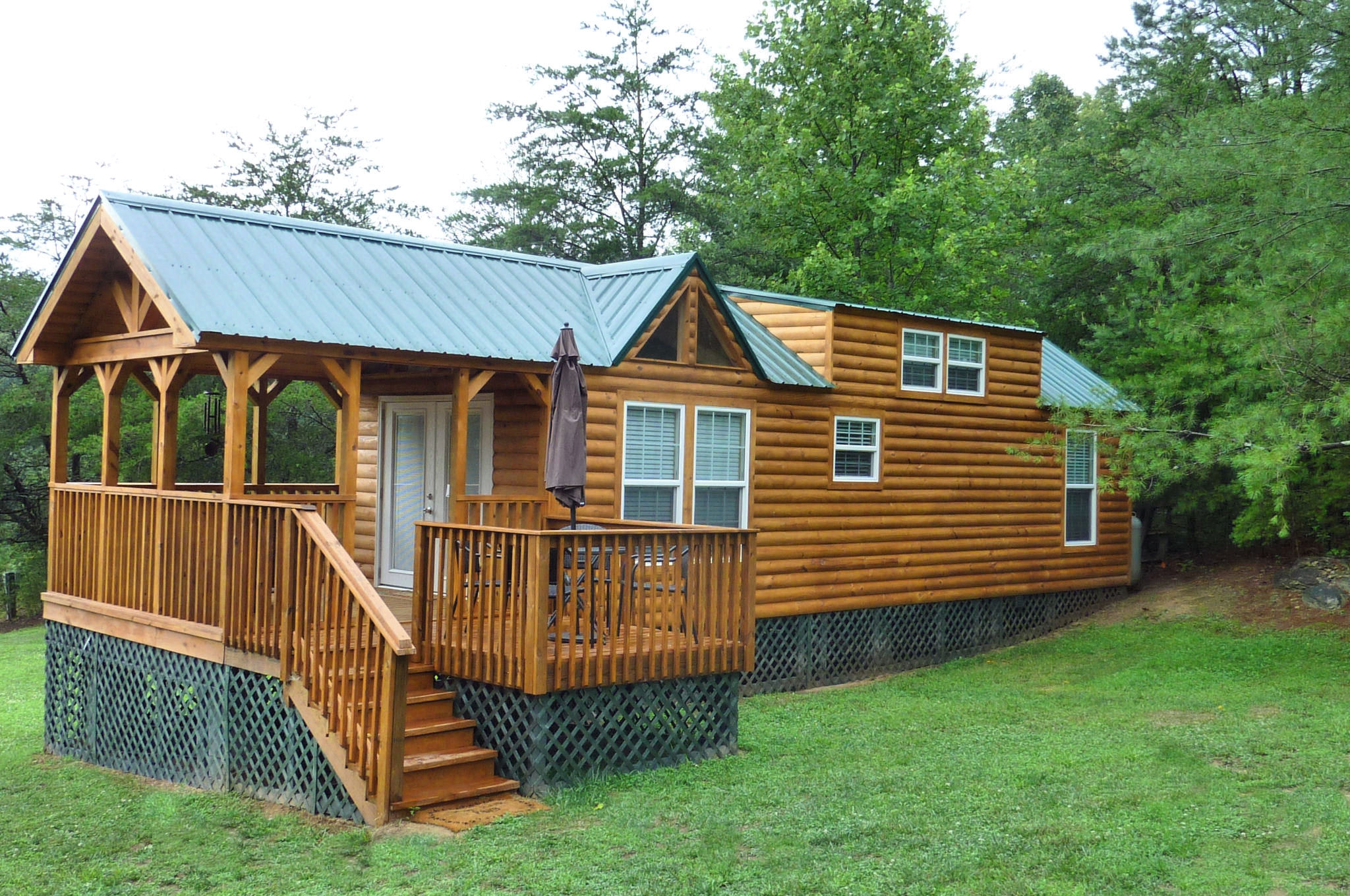 Want to own your own hideaway cabin?
On our lot or yours we can build your Hideaway Cabin to suite your needs.